For many, the concept of inbound marketing seems alien. After all, outbound marketing has been the go-to for years. Studies have shown that most outbound marketing is simply a waste of money since the majority of your audience simply ignores your efforts. Once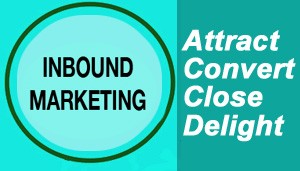 you understand how inbound marketing works, it's easy to understand why customers respond so much better and why it's actually less expensive.
What's the Difference?
Think of outbound marketing as anything that is forced upon someone such as TV ads, purchased email lists, spam emails, direct mail campaigns, banner ads, video ads and paid reviews. How often do any of these methods yield the results you want? Essentially, you're buying customers. Odds are, your ads are being ignored, postal mail tossed in the trash and potential customers turning to other companies.
Inbound marketing gains a potential customer's attention naturally. You can still use ads, however, ads only appear if a customer is searching for a relevant term or phrase. The object is to attract customers organically instead of buying or begging which only annoys. The end result is more traffic for your efforts and happier customers.
The Four Stages of Inbound Marketing
Inbound marketing boils down to four main marketing stages according to HubSpot. You start by Attracting visitors that you then Convert into leads. The next stage is to Close by converting leads into customers. Finally, you Delight customers, turning them into promoters for your business. Each stage is equally important and once mastered, creates a marketing cycle that outbound marketing simply can't match.
Attracting Visitors
If you have a website or blog, you're likely already working on the first stage. You attract visitors through content creation. Blogs, social media, keywords and helpful site pages are all vital to attracting visitors to your business. The idea is to ensure the content you create is relevant, engaging and optimized so search engines display your content to interested customers.
Convert To Leads
Content isn't enough though. Once a visitor is on your site, you have to give them a reason to look around. You want to gain contacts, but only for those who are interested. Call to action buttons, clear landing pages and social media links all help visitors connect with you. Be willing to give away something useful, such as an ebook or list of tips, in exchange for a visitor's information.
Close The Deal
Now it's time to market to the leads you've created. These people are interested in your business and won't mind receiving updates about products and promotions. However, remember to never spam your leads. A weekly reminder is welcome and unobtrusive. Keep social media updates, emails and other marketing useful without pushing products or services on your leads.
Delight To Promote
This step is the real gem of inbound marketing. If you stay active with your customers, you receive repeat business. Engaging through email, blogs and social media allows you to provide excellent customer service which in turn delights customers. They reward your efforts by recommending you to friends and family on social media and their own websites. Suddenly, you're receiving free advertising.
The True Lesson
Inbound marketing is all about being personable and connecting with your customers. Outbound is a one way conversation where you do all the talking. If you take a moment to listen to your customers, your marketing becomes far more effective.
Related Articles