Web design is a constantly evolving and the latest trends showcase the need for easier to use, simple interfaces that place the focus on content. Many of the past trends focused on flashy objects, bright colors and overly cluttered pages to grab a visitor's attention. Now web designers are giving users what they really want – designs that cater to their needs at every turn. While it may seem rather drab, minimal is what's in and it looks surprisingly professional while highlighting every important detail of a site.
3D Goes Flat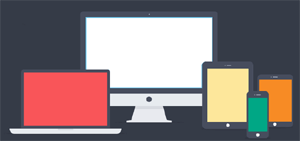 The trend used to be all about making objects appear 3D through a technique called skeuomorphism. Through a mixture of shadows, gradients and shiny colors, a designer could make certain elements like buttons seem to pop off the screen. Flat design is now the future with skeuomorphic designs waving goodbye.
The change stems from users wanting a less cluttered, less flashy design. They want a clean page that doesn't distract. In fact, most elements tend to stand out more through flat design. Plus, today's tech savvy users don't need page elements to jump out at them like they used to.
Create Pages That Respond
If you want a site that has a truly modern look and feel, you have to use responsive web design. Not only is this trend easier for the designer, it's also much more convenient for users. Responsive layouts allow a site to change and automatically fit any screen or device that a visitors views a site on. In the past, designers had to develop a standard website and a mobile site.
With screen sizes varying greatly between desktops, laptops, tablets and smartphones, it simply isn't feasible to create and manage a slew of sites. While it's more difficult and time consuming to develop a responsive site initially, it saves time and improves a site's reputation and rank over time.
Minimal Gives Users More
The old saying that less is more is quickly becoming the latest web design trend. White minimalist design strips away any unnecessary elements and clutter in order to draw a visitor's attention directly to the most important content on the page. Instead of colorful backgrounds, these sites have a white background to make it easier to scroll through and read content.
The main problem with a white minimalist design is creating a site that looks complete. If done incorrectly, a site may look a little too minimal. The idea is to use only the elements you absolutely need and remove all the fluff and flash. The key is to focus on the layout so elements fill the page and the eyes are naturally drawn to each section or element without anything getting in the way. Of all the trends, this is probably the hardest to master, but one visitors appreciate.
Contact us if we can help you with your new Web design or site update project.